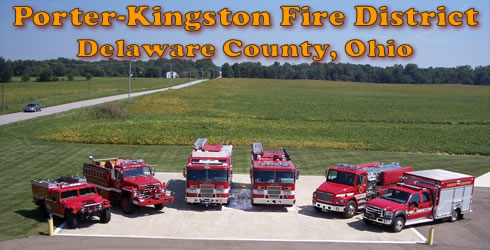 History of the Porter-Kingston Fire District
The Porter Twp. Fire Department was formed in 1953 by Joe Caudy, Gerald Crowl, Art Kenny and Walter Philips, and was operated by the Porter Twp. trustees out of the General Fund. The dept. started with a 1953 Dodge American pumper and had 16 members under the direction of Fire Chief Gerald Crowl
In the mid 50's, Kingston Twp. began contracting PTFD for fire protection. On Jan. 01, 1965, Homer Rader took the helm as Fire Chief. In the late 60's the PTFD was removed from the township general fund and operated with its own funds generated through levies and the Kingston Twp. contract, which was also supported through levies. The Porter Twp trustees remained the administrators of the department.
On Jan. 06, 1972 Larry Caudy became the third Fire Chief of the Porter Twp. Fire Department. In 1975, the volunteer firefighters constructed the addition to the current Porter Twp. firehouse, which would help accommodate the addition of a new first line engine, a 1976 Towers on a Ford cabover chassis.
In 1980 the members of PTFD put their construction know how and abilities together and built Hose 381, a 1980 4 wheel drive International chassis with a 1000gpm front mount pump and two large Hannay reels carrying a total of 2700 feet of 4 inch hose. Also, it carries several sections of hard suction hose of various sizes. This truck is still in service today and has been a valuable asset to the dept. and our neighboring departments.
May of 1985 brought the delivery of a new Sutphen engine on a Ford Chassis. This pumper had a 1000gpm pump and carried 1200 gallons of water. This truck replaced the original tanker which was a converted gas delivery truck on a Ford chassis.
In 1989, the two townships formed an independent entity for fire protection and the current Porter Kingston Fire District came into existence. The current station, known as The Joe Caudy Station, was constructed in 1991 and got its name from one of the original founding members. At this time The PKFD relocated to the new facility and began operations. The operation of PKFD is 100% independent of Porter and Kingston Twp. trustees. Each twp. selects a trustee to be a member of the fire district operating board; each twp. also appoints an outside party to the board and the Porter Kingston Firefighters Association appoints a member to the board.
Still under the direction of Chief Larry Caudy The PKFD continued to progress and grow. In June of 1994 the District took delivery of a new tanker from S&S Fire Apparatus. On a Freightliner FL80 chassis the tanker carries 1800 gallons of water with Newton Quick dumps on three sides and a 750gpm Waterous pump. In August of 1996 the District purchased a new engine from Pierce, a custom Saber. Seating for 6 firefighters, 1250gpm Waterous pump, 1000 gallon Tank and a 7.5kw diesel generator.E-381 as it was known also carried all extrication equipment. Amkus spreaders, cutters, rams and power unit are the primary rescue tools.
In 1998 the dept was in the market for a new grass firefighting vehicle. The choice ended up being a Fire Attacker demo unit. This unit built on an H1 Hummer chassis carries 250 gallons of water, 10-gallon class A foam tank and a 250gpm Hale pump powered by a Briggs and Stratton motor. This unit replaced a 1968 Chevrolet 4x4 that was the first grass truck the dept owned. Prior to the Chevrolet, the tanker was used as a brush truck. Also in September of 1998 the district began staffing the firehouse during daylight hours of 0800-1600hrs with 1 member of the department. House chores and equipment maintenance were details that the members would handle while on duty, as well as take emergency runs when they came in. Each member was given the opportunity to sign up for days that they were available.
The Delaware County Commissioners, in June of 2000, passed a resolution to place a medic transport vehicle in Station 380. This move cut down the response times for an ambulance in our district, a real benefit to the citizens. Medic 6 is staffed by, at a minimum, 2 paramedics and 1 intermediate EMT. Staffing is24/7, by three duty crews and they have a living quarters on the back of the firehouse.
January 01, 2001 began a new era in the district. Fire Chief Larry Caudy and FF Brandon Rausch became the first two full-time paid firefighters for Porter Kingston Fire District. Working hours were Monday thru Friday 08-16hrs. Chief Caudy was now able to tend to the ever increasing amount of work that is demanded of a fire chief. FF Rausch was tasked with daily chores and maintenance on vehicles as well as in and around the firehouse. This also enables us to reduce our response times for emergencies.
July 1, 2002 Engine/Rescue 381 was delivered; this apparatus enabled the district to retire 2 vehicles. Engine 382 and Rescue 381 were put to pasture. Eng 382 was purchased by The Delaware Area Career Center and is still used by the fire service program for firefighter training. The new Pierce Saber is state of the art. The committee did an outstanding job on the specification and design of this beauty. All rescue tools are now on E/R 381 with the addition of Paratech air bags and Genesis combi tool and simo pump. The Amkus tools are pre-connected to 100' Hannay reels off the back of the truck. A 15kw Harrison hydraulic generator powers a Wil-Burt Nightscan light tower, tripod lights, brow lights and anything else we may need. Not an inch of wasted space can be found on the rig.
January 1, 2005 marked a new beginning for PKFD when the district started providing first responder ALS services for our 2 communities. Just another way to expand our services and commitment to the public in the case Medic 6 were to be tied up on another emergency. The district currently has 10 state certified paramedics on the active roster. All our paramedics have several years of experience in the EMS field from work at their full-time jobs, with over 100 years of combined experience, on very busy medic companies. This just further enhanced our ability to serve our public the best we can. You can rest assured that together Medic 6 and PKFD will provide a very high standard of care.
February 2005, the district took delivery of a Ford F-550 4x4 crew cab with a 12 foot rescue body. Life Star Rescue Vehicles in Van Wert, Ohio built this truck. This truck, Rescue 382, carries all our ALS equipment and also has limited extrication equipment. A second Genesis combi-tool and simo pump was purchased for use on this truck. The truck was designed to be a first responder vehicle for EMS, a supplement to E/R 381 on all vehicle accidents and a manpower vehicle for any other fires or rescue incidents as needed. R-382 has a 3 bottle cascade system from Eagle Air installed, for replenishing SCBA bottles on scene. It also has an 8kw Harrison hydraulic generator onboard.
April 2005 brought a bit of bad news to PKFD with the announcement of Chief Caudy's retirement at the end of the year. After 37 years of dedicated service, 33 of those as fire chief, Larry decided it was time to hang the helmet and coat up for good. Chief Caudy was the driving force in turning this district into one of the finest organizations in the Central Ohio area. Chief was always willing to try something new and not afraid of change, always keeping up with the latest technology and implementing them when needed. He was a perfectionist and would settle for nothing less. A mentor too many firefighters through the years, he will truly be missed. We will always have an extra pager for him.
In July 2005, a new full-time firefighter was hired to replace FF Rausch, who decided to explore other avenues. Wesley Lewis was a volunteer in the district and was a perfect fit for this position. Possessing his 240 card and now a certified paramedic, Wes is an excellent addition to the daytime staff.
Next, the search began for the replacement of Chief Caudy. The search didn't have to last long. A capable and able prospect was right in our ranks. Captain Michael Thompson was just the right man for the job. A 20+ year veteran of the district, Capt Thompson is well qualified and knows the system and inner workings of the department. He was hired and began his new role on October 01, 2005. Chief Caudy remained on staff still to help the transition go as smooth as possible. The end of the year came and the passing of the bugles went as well as expected. Chief Thompson is settling in his new office and has no plans to let off the pedal while leading the district into the future.
So here we are today, The Porter Kingston Fire District, staffed by 1 full-time fire chief/paramedic, 1full-time firefighter/paramedic and usually at least one part-time firefighter, as well as 23 paid on call members ready to leap into action when the tones drop. Covering 2 townships and a busy stretch of Interstate 71, Station 380 had 302 calls for service in 2005. Ever willing and always ready to serve our communities and surrounding departments, the Porter Kingston Firefighters are a proud and dedicated group waiting to answer the call.